TTR RESIN DNP R300
Product Description
R300's extensive label adaptability and high print speed capability make it the most diverse resin of its kind. It outperforms the competition in abrasion and solvent resistance, uses less print energy and is designed with DNP's standard anti-static and backcoat properties to protect and extend the life of printheads. And, like all DNP ribbons, R300 is an industry leader in edge definition, producing dark, dense images for improved scan rates.
Economy Synthetics

Polyester

Polyethylene

Polyolefin

Polypropylene

Specialty Materials

Vinyl
B324 – RESIN
B324 Durable ESR™ is a UL approved multi-purpose resin thermal transfer ribbon designed to work with most flat head technology printers in demanding i

ndustrial conditions. B324 prints extremely dense bar codes and high-resolution images on a wide variety of both paper and film media.
B324's durable performance characteristics include its ability to withstand repeated exposure to chemicals such as isopropanol and brake fluid, making it an ideal choice for demanding applications in a wide range of high end market sectors.
CLICK HERE to view the B324 Durable ESR™ data sheet.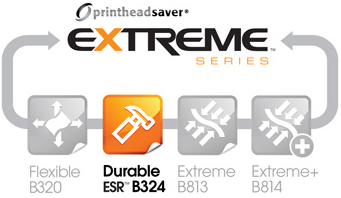 B110CR

Automotive

Chemical industry

Healthcare

Electronics

Heat resistant : Adaptable resin, usable up to 600 DPI
Adaptable resin, usable on major part of applications where a good resistance to solvant and mechanical damages are requested. Its formulation makes this ribbon particularly dedicated to 600 DPI printers.
Downloads
Description
Excellent printing quality, sensitivity and receptor multi-compatibility
Excellent resistance to smudge and scratch
Good resistance to high temperature
AXR®7+ is the standard resin ribbon of the inkanto range. Its high versatility (it also prints on coated papers), its performances (sharpness, printing speed) and its ability to widen the usual application fi elds of resin ribbons have resulted in making AXR®7+ the worldwide reference on this family of products.
The most versatile resin product on the market.
Concentrated performance in terms of writing quality and print durability.
Good resistance levels irrespective of the label material.
Features
Technical data
& warranties

Compatibilities
(printers & substrates)

Sustainable Development
Printing quality and speed
Sharpness:
Blackness:
Speed:
Vertical barcode:
Horizontal barcode:
Resistances
Mechanical:
Solvents:
Heat:
Light:
Water:
Une encre qui garantit une forte durabilité de
Ribbon structure
Layer 1: Ink
Resin ink.
Melting point: 80°C / 176°F
Layer 3: Back
Friction coefficient: Kd < 0.9
Storage
By respecting the following storage conditions, we recommend to use the ribbons within 12 months after production date.
Keep away from light
Temperature 5-35°C (40-95°F)
Humidity 20-80 %
Packaging
Double-wall corrugated box offering good compression resistance.
Rolls individually filmed for good protection during transport and storage.
Loose fill packaging material to hold the products during transport.
Identification and traceability information on the box and on each roll.
All packaging items are recyclable and comply with Directive 1994/62/EC.
Product specificity
The world's best-selling resin ribbon for Flat Head printers. An industry standard since its launch in 1992. Particularly renowned for its ease of use and high l